Jermain Defoe hit a hat-trick as England stormed to victory in their opening match of the European Championship qualifiers. Defoe latched onto a pass in just the 3rd minute to slam the ball into the roof of the net. It wasn't till the second half when Defoe struck his 2nd goal when he slotted a one on one through the Bulgarian keepers legs.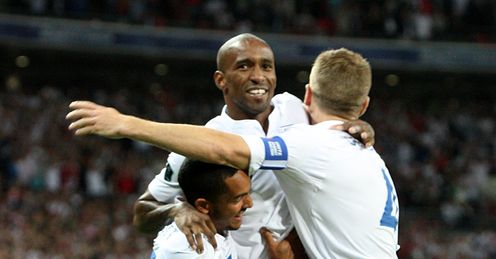 Adam Johnson looked to have wrapped it up in the 83rd minute when he hit a low drive which beat the keeper at the near post for his first international goal, however just a couple on minutes later Rooney put Defoe through once again for the Tottenham striker to put it across goal and complete his hat-trick.
Overall a solid team performance, although the likes of Lampard, Rio and Terry were missing Capello seemed to get the team balanced right. The players looked to be on the same wavelength with their passing and moving, not the greatest performance but a big improvement from the team we saw in South Africa in the summer.
The one low point was an injury to Spurs captain Dawson which saw him stretchered off in the second half, it looked like he was in a lot of pain and no doubt we will have to wait for the results of a scan to find out the severity of the injury. If this turns out to be as bad as it looked then Dawson may be out for quite a while which may see Gallas get his chance in the Spurs team sooner rather than later.
It was good to see Defoe look sharp again, he looked to have almost shaken off his groin injury andhopefully can carry his form back in to the Tottenham side, no doubt he will have gained a massive confidence boost with his first England hat-trick of his career.
Follow @TrfficTottenham