Just when we start believing all the hype that we might actually be really good this season and other people saying we are title challengers we go and get a nightmare result against a poor Wigan side. Now I tipped Wigan for relegation this season and I still think they will go down, so why do we always struggle against teams like this, why do we fail to find the net?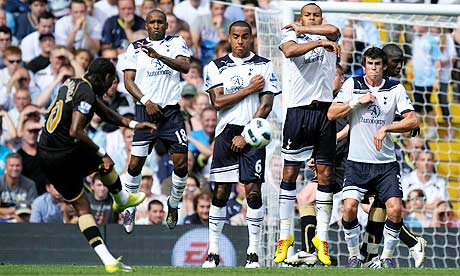 I then watch Manchester United v West Ham and at no point before, during or after did I think United would end up the way Tottenham did today, I don't know why but the top teams win these games and when they struggle they grind out a result and rarely do they lose. Can you imagine Arsenal, United, Chelsea even Liverpool losing at home to Wigan today or like we did last season to Wolves? Whenever Arsenal play at home I am pretty sure that they will end up with a win but with us you just never know.
I had already told myself today that Blackburn would get something from the scum today and we would beat Wigan, giving us a three point gap but never did I think it would be the other way around, maybe I am guilty of believing the hype that we are actually a top team. There's no doubt we have massively improved but was last seasons 4th place a fluke?
You have to credit Wigan, they got humiliated last season and were obviously out for some payback but my question to everyone is why oh why do we struggle at home agaisnt the teams we should easily beat and then go and beat the top teams. We really do enjoy making it hard for ourselves don't we. It reminds me of Hull, Wolves and Stoke at home last season, silly points dropped. Is it a mental thing? do our players think the game is already won before even walking onto the pitch? Someone please help me out here.
Follow @TrfficTottenham