It turns out that over recent weeks Harry made enquiries to Manchester United over the possibility of signing England Defender Rio Ferdinand.  It seems as though Harry thought that Fergie was getting frustrated at Ferdinand's continuous injury problems and saw his opportunity to strike.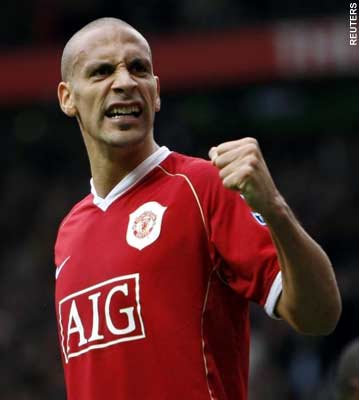 Redknapp was told that Rio was not for sale at any price but you have to admire the Spurs manager and his ability to aim high when trying to sign a player in this case. It was Harry that brought Rio through the ranks at West Ham and having missed out on Joe Cole would have liked another former West Ham player at the club.
It is said that Spurs even had their medical staff assess Rio and his injury problems and was given the the green light but United simply didn't want to do business and who can blame them. Since then Spurs have snapped up William Gallas on a freebie to help cover with the absences of Ledley King and Woodgate at the back.
So, it's not like it really matters anymore but I thought you might like to know what our dear manager had been up to during the summer. I can't see why Rio would leave United just yet although Harry is his old boss and London is his home town.
Rio in a Spurs shirt, won't be happening anytime soon I'm afraid. We will never know how far this one went, if at all, could have just been the newspapers with nothing better to do. It is nice to see us linked with some big names but then again we always have been, we need to start signing them up now to be taken more seriously.
Follow @TrfficTottenham