Step up Ledley King, as we all know the England and Tottenham center half is likely to be out for the next 3 weeks. How does this rate on the luck scale? well when you consider Ledley last played a major tournament for England in Euro 2004 but had to fly home during the group stages after an impressive performance agaisnt France due to the birth of his first child (Yes it was a bit awful timing but it showed Ledley to be the true decent,honest and loyal man he is). I'd say his luck is off the scale.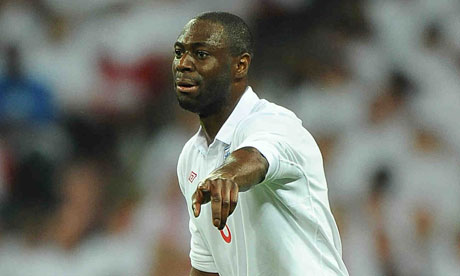 Since 2004, Ledley has been plagued by his mysterious knee injury which prevents him training with the rest of the team. After each match his knee swells up and he is in pain for a few days. On average now if other injuries permit he can manage 1 game a week for Tottenham. The most amazing part of this story is the fact that Ledley is still one of the best defenders in the Premier League, he was instrumental in Tottenham finishing in the top 4 for the first time this season.
King picked up a groin injury agaisnt USA in Englands World Cup opening match, a scan has revealed a tear which is likley to mean 3 weeks out for Ledley and probably the end of his tournament. He has had the worst luck in football from a personal point of view in the last 5 years, god only knows how good he could have been if he wasn't cursed with a crocked knee. Harry Redknapp himself even says it would be scary to think just how good this guy could be because he is one of the best defenders around and doesn't even train. It defies all logic.
It is a shame but I am glad his talent has been seen by Capello and he got his chance, I just hope that Dawson is the man to replace him although somehow I doubt it. All Spurs fans know just how good King and Dawson are and could do a job for England. The only thing that bugs me is all the non Tottenham fans coming out and saying this just proves that Ledley should never have gone to South Africa. Do they even know that this is a completely new injury that King has picked up? do they even care? No!, they just jump on the Ledley King bandwagon. Let me tell you that if Ledders had managed to keep himself fit all his career I would bet my life he would have been England captain, he has the attitude,ability and character.
When it comes to football I declare Ledley King the unluckiest man in recent times, but maybe it is a blessing in disguise because if he had kept fit would he still be a Tottenham player? my heart says yes but who knows what big offers would have come in for him.