We signed the two Kyles from Sheffield United a couple of years ago, both Naughton and Walker were tipped to be future stars and it looks as though the dream is coming true for one so far.
Although I actually rate Kyle Naughton it appears that Walker is the one that catches the eye, he stood out in the summer for the England U21s and after a couple of loan spells at QPR and Aston Villa where he impressed both sets of supporters he now seems to have made the right back position his own at Tottenham as well as featuring in the latest England squad.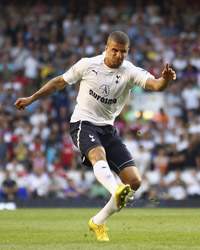 We all saw the fine performance he put in on Sunday, capped off by scoring the Winner against Arsenal. Like many of you last season when he was on loan at Villa I saw him a few times and thought to myself "wow I can't wait to get this kid back in a Spurs shirt". Hutton always had the edge at going forward and Corluka had great defensive ability but lacked pace, this guy however seems to have the full package and raw talent to cement his place in the side for years to come.
Kyle Walker possesses all the qualities to be a top right back, you need to be fit to get up and down the line and you need to be strong, he also has good reading of the game and good positional sense. The pace of the kid is an asset because on the rare occasions he has been caught out he has been able to recover. I feel sorry for Corluka because he hasn't done much wrong but you have to play your best players and I remember last season seeing Corluka left to chase Theo Walcott when Arsenal scored the opening goal at White Hart Lane and let's face it he had no chance of getting anywhere near him, this highlighted our weakness and I always thought we got lucky that other clubs didn't try to expose us with the lack of pace at right back.
Walker is now in the England squad and hopefully this time will feature, Chris Smalling isn't a right back so maybe Capello will do the right thing and put the kid in, he deserves his chance. I am glad for now that he has back with us, I was hoping Harry would see his potential and the fact that his experience out on loan meant he was capable of playing in the Premiership, we always worry that Harry has his favourites and doesn't give the kids a chance easily but this season things seem to be a little bit different, Kyle Walker is the one to benefit most from that.
Follow @TrfficTottenham