First and foremost for the grammar experts, yes I have been drinking heavily tonight but considering the occassion please firgive any spelling errors.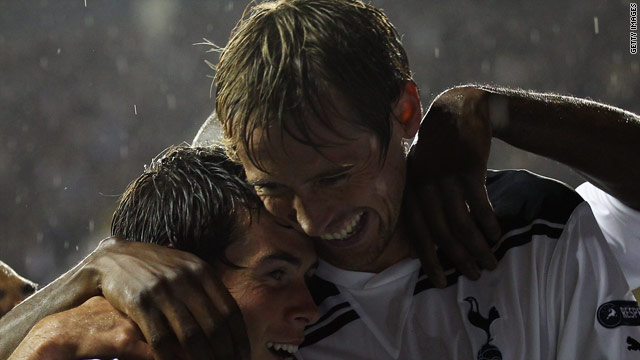 Watching tonight's match and oh boy what a feeling, the sense of what we have actually achieved hasn't properly sunk in yet as I am sure it hasn't for most of you. Well let me try to hit it home for you, Tottenham Hotspur are a Champions League club, you can get used to sitting in on a week night to enjoy our beloved club play Champions League football.
Like a lot of others I was skeptical tonight, I knew we had the ability but the best thing about supporting Spurs is you never know, we could just as easily have gone out and lost tonight as when something is usually too good to be true it usually turns out that way and we end up with heartache.
Tonight though things were different, for once we delivered our promise and finally delivered the club Champions League football. Peter Crouch scored a hat-trick in a convincing 4-0 win over Young Boys. Crouch set us on our way in just the 4th minute which was the perfect start we all hoped for and we never looked back from that moment.
This means a windfall of over £20million for Spurs so don't be surprised if our quiet summer turns into a spending frenzy in the next few days. I don't think there will be many new faces but maybe one or two big signings and I expect Luis Fabiano to be on the cards even more so now because we are Champions League and Sevilla are not and new Uefa rules mean he is now not cup tied.
So Say it and believe it Tottenham Hotspur will be hosting Champions League football at Whie Hart Lane, we are now amongst Europe's elite and a much more glamorous club.
Follow @TrfficTottenham